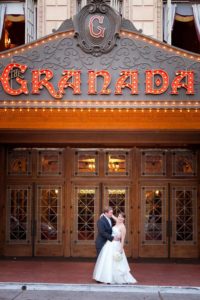 Elegance, history and drama all come together at one of Santa Barbara's most unconventional but memorable wedding locations:  The Granada Theater.
Located downtown Santa Barbara within walking distance of boutique hotels, legendary shopping and restaurants, the Granada Theater holds a rich part of Santa Barbara history.  But few actually know that it can be used for weddings and receptions and makes for an incredibly gorgeous affair.
The event space is made up of an opulent 1553 seat performance hall, a fantastic banquet room on the balcony level and "open airy" beautifully-decorated spaces in between.  While some brides and grooms have their wedding ceremonies off site from The Granada Theater, many in fact choose to have their ceremony right at the theater in the performance hall and use the lobby entrance for cocktails and an incredible party for dinner and dancing upstairs on the balcony level.
We have had the privilege catering many events at The Granada Theater and some of our favorites are weddings.  If you are interested in hosting a wedding at The Granada Theater, contact us for an immediate proposal that includes all set up, rentals necessary, service staff, a memorable food and beverage experience, clean up and much more.