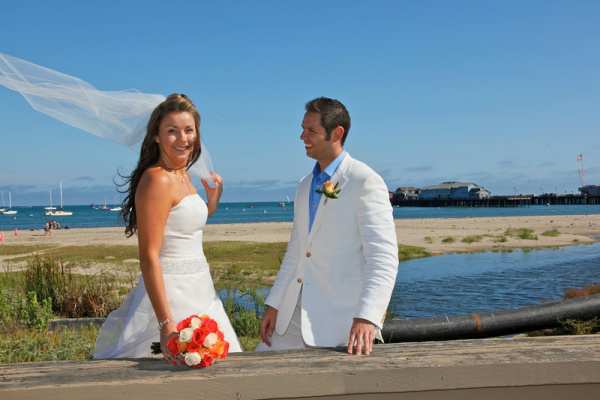 There are dozens of Santa Barbara beach wedding locations, but two of the most popular at which we work the most have become near and dear to our hearts.
Chase Palm Park and The Cabrillo Arts Pavilion are both associated with Santa Barbara County and both have unique features allowing couples to exchange vows with the world-renowned Santa Barbara coastline and Channel Islands in the backdrop or actually in the sand itself.
In order to get married on a Santa Barbara beach, you need a permit and your caterer and rental company will have to deliver and set up in the sand.  Keep in mind, all beaches are public and you will always run the risk of people walking by (or behind) your ceremony as it is taking place.  There is also the issue of parking – most lots require your guests to pay for their own parking in the close by (often full) public lots.  You may wish to consider hiring a shuttle to pick up guests and bring them to the ceremony in the sand and then take them back to the reception site.
If, however, you want to have your ceremony and reception at the same location, you could not find two better beach wedding location options than Chase Palm Park and The Cabrillo Arts Pavilion.  The Cabrillo Arts Pavilion is located right on the beach with incredible views and if you opt to have your ceremony right in the sand under this wedding venue, guests will only have to walk just steps to the reception.  The Cabrillo Arts Pavilion is a blank canvas inside.  Don't let the neutral decor fool you:  specialty lighting and fabric can transform this beach wedding location into the swankiest of receptions while guests stroll and enjoy the sunset on the balconies.  We recommend valet parking for all Cabrillo Arts Pavilion events.
Chase Palm Park offers an elegant park across the street from the world-renowned Santa Barbara beaches.  There is a giant fountain and nearby a carousel for the romantic and young at heart.
Not sure which Santa Barbara beach wedding location is the one for you?  Give us a call ( 805-566-1822)  and share with us your event vision and we will give you our professional recommendation.