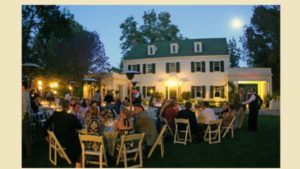 Looking for a private estate- style wedding with relaxed country atmosphere, sprawling gardens and complete charm?  McCormick Ranch in Camarillo has it all.  And without a site fee that will break the wedding budget.
Built in 1918 by Irish immigrant Thomas McCormick, McCormick Ranch has been host to 4 generations of celebrations.  It holds a country atmosphere with lawns, pines, jacaranda and palm trees gracing the property and a genuinely secluded feeling location.  The history gives an old-fashioned and vintage timeless feel and the staff is a pleasure to work with.  They include parking, restrooms and even a dressing room for the bride.
The site is available Spring through Fall and is perfect for 250 guests and under.  The site fee is competitively priced, ranging from about $3,000 to $3500 and includes many items one can use for their special event.
As Full Service Caterers who have catererd there, we have a full working list of what is needed and what you will need to rent and can coordinate all of your needs for you and save you time and money in doing so. Contact us immediately for a quote for your McCormick Ranch wedding.
For more information on McCormick Ranch, click here.