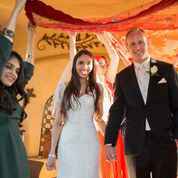 Every Santa Barbara wedding has its own story because every couple has their own story leading up to their special day.  The gorgeous mountains just south of Santa Barbara in the lovely setting of Ojai provided the perfect backdrop for  Shahida and Cameron's ethnic American-Indian wedding.
The Event Supply Partner Team: Venue:  Private | Catering: Catering Connection | Rentals:  Ventura Party Rental Center | Ceremony Music: Family String Music  | Reception Music: Music by Bonnie | Cake: Siblings | Photographer:  Joanne Leung  | Lighting: Premiere Event Design by Greg Finnerty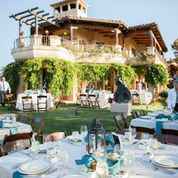 The Menu:  Hors d'oeuvres included:  Beef Sate with Peanut Sauce, Roasted Sweet Tomato Tart with Basil, Pine Nut Crush and Goat Cheese and more.  The main dinner course was Italian, family-style and included Pasta Fettuccini Tossed in Alfredo Sauce with Chicken Breast and Freshly Grated Parmesan as well as Pasta-Penne with Tomato and Green Olive Asparagus with Confetti of Red Peppers.