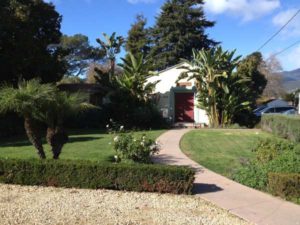 In the midst of fabulous grand Santa Barbara wedding and event locations, including grand estates, parks , beach-side rental venues and more stand the more intimate, small  and often less known event locations such as the Carpinteria Woman's Club.  Carpinteria Woman's Club is ideal for the wedding and event about 60 and under (indoors) and about 100 outdoors in the garden. And at $60/hour, it's a steal.
With convenient parking located nearby and space to allow for a nice cocktail hour, dancing and meal, the Carpinteria Woman's Club is a a charming option for an affordable Santa Barbara wedding or event location in the heart of the small beach town of Carpinteria.
To find out exactly what is included at the Carpinteria Woman's Club and get a quote for your event or wedding there, please give us a call:  805.566.1822.