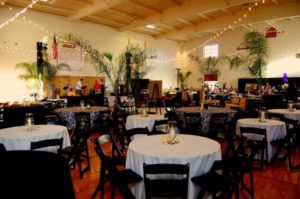 At last Saturday's, Our Lady of Mt. Carmel Annual Gala, the evening was balmy, the lively rhythms of Cuban Band 'Somos Son' was intoxicating, and the Fidel Castros were plenty.  As guests arrived, clad in festive attire and Cuban costumes, they entered the world of Havana at Night: hand-rolled cigars with a fire-pit in the outdoor cabana, enticing native cuisine, El Presidente margaritas, tropical flora and fauna, twinkly light strings overhead, and loungy indoor cabanas.
While perusing hundreds of silent auction items that had been generously donated, the guests were passed delectable savory hors d'oeuvres such as Cheesy Potato Croquettes with Cuban Hollandaise, Chicken Empanadas with Chipotle Dipping Sauce, and Camarones Al Ojo (spicy shrimp).  The fleet of organizers and volunteers pulled off this part of the evening flawlessly and kept everyone moving through the room to see what enticing auction item was on the next table.
Plentiful food stations opened to serve traditional Arroz Con Pollo, Warm Cumin Scented Carrots with Raisins and Cilantro, Sweet Corn and Cheese Tamales, Pork Sliders with Spicy Coleslaw, Seabass with Tomato-Onion Confit, Tropical Fruit Salad, Pinto and Black Bean Salad, and traditional condiments.
The dessert stations were filled with Warm Bread Pudding, Chocolate Rum Balls, Coconut Cakes, Banan Cream Pies, Key Lime and Dulce de Leche Cheesecake Bites, Macaroons, and Fresh Fruit Tartlets.  The live auction host, Paula Lopez, kept the auction moving at a steady pace and it was a true success!
Thank you to all of the planning committee members and volunteers who worked together with us to make this wonderful event happen.  Also, a big thank you to Ventura Rental Center who  provided all of the rentals and cheerfully worked alongside us to bring a little of Havana to Santa Barbara.