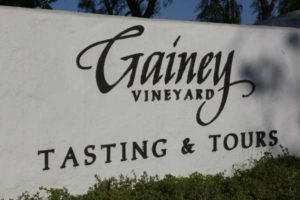 Santa Barbara and its own wine country, the Santa Ynez Valley, are prime destination event locales for the corporate event planner.  And we are so lucky to have some of the best internationally-based destination event management companies right here in our own backyard.  Many destination corporate events are incentive programs for leading national or international corporations whose executives are being rewarded with a memorable vacation.  For others, it is a working "retreat" whereby companies send their leaders for some work – and play – in our hometown.  But no matter what the reason, we were simply delighted to have worked with Destination Management Company Releve Unlimited on these two consecutive wine pairing dinners at the lovely Gainey Winery, which boasts panoramic views of incredible vineyards and the dramatic Santa Ynez Mountains as the perfect backdrop.
Heartfelt thanks to our gracious event supply partners:  Classic Party Rentals and Bella Vista Lighting who completed the look and feel of these two fantastic dinners.
Below is a sample of our wine pairing menus from each evening as well as some photos documenting the evenings, courtesy of photographer  Baron Spafford.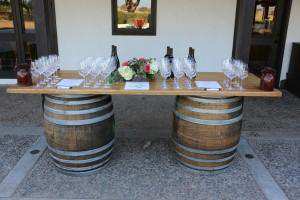 Wine Pairing Dinner Menu Highlight:

Hors D'oeuvres – Butler Passed: Halibut Ceviche On Mini Tostada with Ojai Citrus and Carpinteria Avocado; Smoked Salmon Lollipops with Bagel Dust; Beef Sate with Ginger Teriyaki Glaze; Goat Cheese and Ojai Habanero Jelly Turn-Over in Crisp Fillo; Dinner -First Course (Paired with Gainey 2011 Sauvignon Blanc): Fresh Dungeness Crab Cakes with Mesclun Salad with Chipotle Sauce and Sweet Corn Relish | Second Course (Paired with Gainey 2010 Chardonnay) – Seared Local Seabass with Shaved Fennel Confit, Anis Seed and Lemon Butter | Third Course (Paired with Gainey 2009 Merlot) – Roasted Beef Tenderloin, Pink-Peppercorn Crusted Served with Roasting Pan Jus; Sautéed Petitpan Medley and Twice Baked Potato Rounds with Gruyère Cheese; Dessert (Paired with Gainey Riesling)- Grilled Pineapple Upside Down Cake with Sweet Cream Ice Cream and Ginger Glaze;   Gluten Free Dessert Option