HORS D'OEUVRES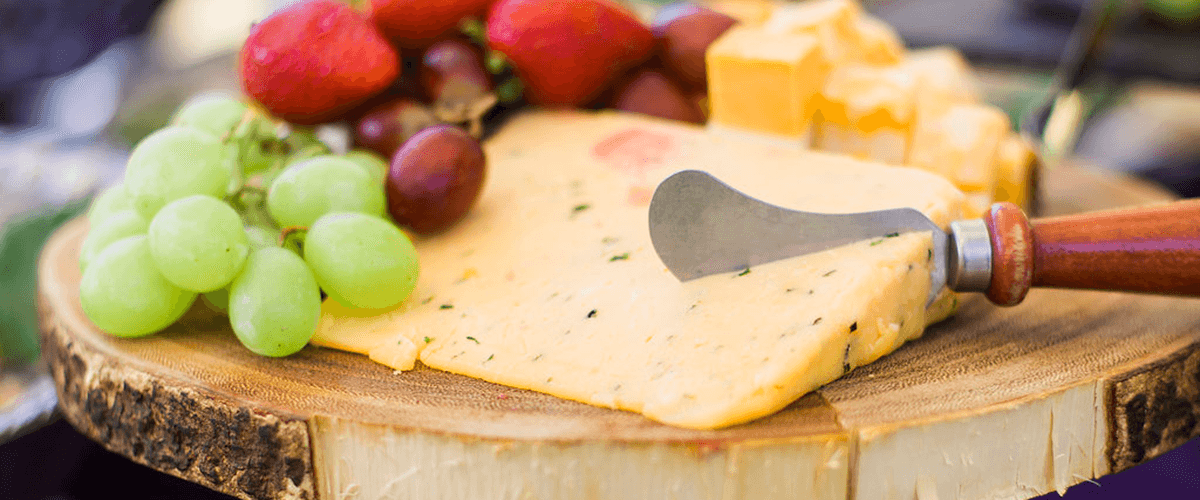 Chicken & Duck, Pork, Beef, Lamb
Seared Beef Tenderloin Steak Bite with Blue Cheese & Cilantro Pesto Dips
Miniature Beef Wellington in Puff Pastry
Ribbons of Beef Tenderloin on Garlic Crostini with Horseradish
Chicken & Waffle with Warm Vermont Maple Syrup
Zesty Orange Chicken Bite
Southwestern Chicken Empanada with Chipotle Dipping Sauce
Fresh Garlic Marinated Chicken Skewer with Chimichurri Dipping Sauce
Grilled Chicken Quesadilla with Creamy Queso Fresco & Cilantro
Grilled Chicken, Beef or Pork Sate with Dipping Sauces
Hickory Bacon-Wrapped Almond-Stuffed Date
Grilled Asparagus Wrapped in Prosciutto
Mini Pork Tostada, Black Bean Mash, Queso Fresco and Fresh Cilantro
Ripe Cantaloupe & Honeydew Melon Wrapped with Prosciutto
Handmade Thai-Spiced Pork Dumpling with Cilantro Dipping Sauce
Bacon Wrapped Jalapeno Peppers Stuffed with Cream Cheese
CC's Panko Crusted Mac & Cheese Ball with Ham
Smoked Muscovy Duck Breast on Mini Corn Muffin with Cherry Relish
Curried Lamb Samosas with Apricot Chutney
Mini Lamb Kebabs with Cucumber Yogurt, Mint Flakes and Kosher Salt

Seafood
Fresh Local Ahi Tuna Poke on Wonton Crisp with Wasabi Cream
Hickory-Smoked Bacon Wrapped Local Scallops
Basil Crusted Scallops with Citrus Aioli
Coconut Fried Shrimp with Spicy Orange-Ginger Dip
Jumbo Cajun Shrimp
Grilled Jumbo Shrimp with Spicy Bloody-Mary Shot
Grilled Shrimp & Scallion Skewer with Thai Dipping Sauce
Crab Wontons with Roasted Red Pepper Dip
Mini Crab Cake with Tartar Sauce
Crisp Calamari with Lemon Aioli
Miniature Salmon Wellington in Puff Pastry
Ginger Glazed Salmon Sate
Smoked Salmon Lollypop with Bagel Dust
Mini Halibut Ceviche Tostada
Oyster Rockefeller
CC's Panko Crusted Mac & Cheese Ball with Crab or Lobster
Oyster Shooter with Thai Spicy Sauce

Vegetarian
Crunchy Belgian Endive with Gorgonzola, Candied Walnuts, Cranberries
Caprese Skewer with Balsamic Reduction Drizzle
Crispy Spring Roll with Rich Plum Dipping Sauce
Homemade Crostini with Herb Pesto, Mozzarella & Confetti of Bell Pepper
Seasonal Figs & Honey Pecans, Fresh Goat Cheese on Belgian Endive
Homemade Three Cheese Wonton with Roasted Red Pepper Aioli
Pear, Brie & Roasted Walnut Quesadilla
Roasted Sweet Tomato Tart with Pine Nut Crush & Warm Goat Cheese
Kumquat, Goat Cheese on Belgian Endive Honey Drizzle (seasonal)
Savory Artichoke Fritter with Béarnaise Sauce
Soup Shot (tomato, butternut squash, mushroom, gazpacho, spring pea and mint)
Sweet Potato Sticks with Fiery Chipotle Dip
CC's Panko-Crusted Mac & Cheese Ball
Warm Brie and Dried Apricot Filo Tartlets with Toasted Almonds
Fresh Watermelon Salad, White Balsamic Vinegar Reduction, Mint Leaf
Caramelized Polenta Round with Tomato Jam and Goat Cheese
3 Cheeses and Confetti of Bell Pepper Quesadilla

Small Plates/Tapas
Grilled Angus Beef Slider with Gorgonzola Cheese and Grilled Onion on Homemade Brioche Buns
Casuela de Pulpo - Spicy Calamari Tomato Caper Stew
Creamy Baked Macaroni and Cheese (Plain, Ham, Crab, Lobster)
New-Zealand Dijon Herb-Crusted Seared Lamb Chop
with Mashed Potatoes
Flaky Chicken Pot Pie
Mexican Rock-Shrimp Ceviche Tostada with Lime, Fresh Avocado & Pico de Gallo
Mouth-Watering Beef Short Ribs Braised in Cabernet Reduction
with Creamy Polenta
Roasted Seasonal and Organic Vegetable Salad,
Lemon Parmesan Dressing
Seasonal Soup Shot
(Sweet Tomato & Basil, Chilled Vichyssoise with Crispy Leeks,
English Spring Pea with Fresh Mint, Butternut Squash, etc…)
Zesty Rock Shrimp Risotto with Citrus Sauce
Fresh Local Ahi Tuna Poke with Seaweed Salad
Garlic Fries in Bamboo Cone
Sweet Potato Fries with Chipotle Dip
Soft Potato Pillows (Gnocchi) with Red Pepper Cream Sauce
or Gorgonzola Walnut Cream Sauce

Selections of Flatbreads
Whole Wheat Crust with Candied Tomatoes and Onions,
Crisp Pancetta and "Chêvre" Cheese
Parmesan Crust with Sautéed Mushrooms, Caramelized Red Onions, Fresh Rosemary and Grilled Sausage
Herb Crust with Roasted Tomatoes, Kalamata Olives, Fresh Arugula and Bufala Mozzarella

International & Domestic Cheese Board
Gourmet Cheeses from around the World, Garnished with Cubes of
Cheddar and Pepper-Jack Cheese, Bunches of Farmer's Market Grapes and Strawberries. Baskets of Crackers, French Breads & Baguette

Artisan Cheese Board
Artisan Cheeses with Seasonal and Dried Fruits, Walnuts, Fig Preserve,
Local Honey, Served with Crusty Breads & Lavosh Crackers

Flaky Baked Brie Cheese
French Brie Baked in Puff Pastry with Apricots,
Farmer's Market Grapes and Strawberries.
Served with Baskets of French Baguettes and Crackers

Antipasti Platter
Generous Portions of Hand-Sliced Italian Salamis, Prosciutto and Capicola Ham, Fresh Mozzarella, Cubed Mild Feta Cheese, Local and Imported Olives, Marinated Mushrooms, Cocktail Onions, and Large Stuffed Grape Leaves. Served with Freshly Baked Artisan Breads

Charcuterie Display
Cured Meats, Salamis and Paté, Served with Crisp Cornichons,
Kalamata Olives and Dates, Dijon Mustard, Salted Butter, and Crusty French Breads

Tapenade Trio
Olive and Sun-dried Tomato – Fresh Mozzarella, Basil & Tomato
White Bean and Rosemary
Served with Baskets of Freshly Baked Garlic and Herb Crostini

Hand-Rolled Sushi Tray
Our Fresh Homemade California Rolls, Smoked Salmon,
Ahi Tuna and Vegetable Rolls.
Served with Wasabi, Pickled Ginger and Soy Sauce

Hummus & Tzatziki Dips, Crudité & Pita Chips
Choice of Homemade Classic Hummus or Red Pepper Hummus and Yogurt Tzatziki Dip. Vegetable Crudités & Baked Herb Pita Chips

Seafood Bar
Fresh Oysters, Crab Claws, Jumbo Shrimp & Clams
Cocktail Sauce, Lemons, Horseradish & French Mignonette

Santa Barbara Salsa and Guacamole Bar
Our Homemade Spicy Guacamole - Traditional Pico de Gallo
Corn & Black Bean Salsa - Pineapple & Mango Salsa
Tomatillo & Apple Salsa
Served with Tri-Color Tortilla Chips

Ceviche Station
Fresh Halibut Ceviche & Mexican Rock Shrimp Ceviche
Fresh Limes, Avocados and Pico de Gallo
Tri-Color Tortilla Chips