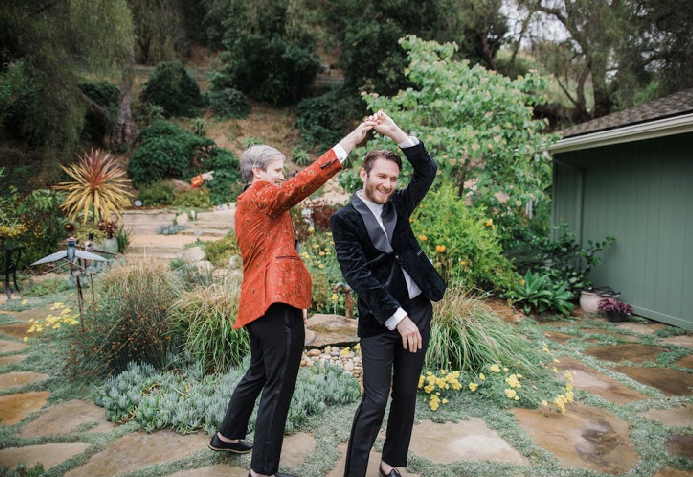 This wedding took place on June 1, 2019.
There is nothing like a home wedding. But especially when that home is a gorgeous garden oasis that supports the picture perfect backdrop for nuptials on the American Riviera.
Turkish-born Hakan and his (now) husband Matthew welcomed guests for a simply elegant celebration of feasting and enjoying the company of those dearest to them.  The very next day they were off to a honeymoon in Turkey.   We wish them the very best and were delighted to be a part of their special day.
Menu: Tray Passed Hors D'Oeuvres: Pear, Brie Cheese and Roasted Walnut Quesadilla; Mini Lamb Kebabs with Cucumber Yogurt, Mint Flakes and Kosher Salt; Roasted Sweet Tomato Tart with Basil, Pine Nut Crush and Goat Cheese | Dinner Menu: First Course: Plated salad- Italian Spinach Salad:  Fresh Spinach with Roma Tomatoes, Olives, Red Onions & Homemade Garlic Croutons with Homemade Balsamic Dressing; Selection of Freshly Baked Artisan Rolls with Butter | Entrées- Served Family Style: Grilled Tri Tip Marinated & Grilled to Perfection with Chimichurri Sauce; Char-Grilled Salmon Chili-Lime-Cilantro Butter; Mediterranean Potatoes with Fresh Mint, Garlic, Onions, Zucchini, Tomato Puree and Fresh Basil; Grilled Vegetable Platter with Seasoned Eggplant, Red & Green Bell Peppers, Zucchini, Yellow Squash & Red Onions with Rosemary and Garlic | Dessert & Coffee: Wedding Cake Provided by Lele Patisserie; Coffee Service Freshly Brewed Regular and Decaffeinated Coffee and a Selection of Herbal Teas  
Event Partner Team:  Venue: Private Home |  Caterer:  Catering Connection | Rentals:  Ventura Rental Party & Events |  Florist:  Goodland Florist | Cake: Lele Patisserie | Photographer:  Michael Costa |  Lighting:  Ambient Events | Music:  Gig Salad